Breast Reduction
Also known as reduction mammaplasty
The goal of breast reduction surgery is to reduce the size of your breasts and reshape them so that they are proportionate to the rest of your body and are no longer a source of physical discomfort. This commonly requested, predictable procedure has the dual benefits of improving your appearance while relieving the physical and emotional burden of overly large breasts.
When to Consider Breast Reduction
• If your breasts are too large for your body frame and create neck, back, or shoulder pain
• If you have heavy breasts with nipples and areolas (pigmented skin surrounding the nipples) that point downward
• If one breast is much larger than the other
• If you are unhappy and self-conscious about the large appearance of your breasts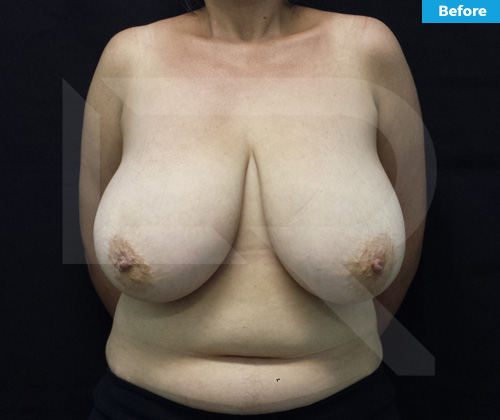 Frequently Asked Questions
How long does the procedure take?
Every situation is unique, but generally Breast Reduction surgery is about 3.5 to 5 hours long depending on individual circumstances and how extensive the procedure is.
Will it be performed under local or general anesthesia?
How long will I be out of work?
Patients can return to work in 1 week depending on their job duties.
What should I expect after my procedure?
Patients may experience temporary soreness, swelling, change in nipple sensation, and bruising. Breasts may be sensitive to stimulation for several weeks.
Do I need special testing prior to my procedure?
Testing is dependent on the patient's health history and age. Testing is ordered for every patient.
Will this be covered by insurance?
In most cases no. Patients should contact their insurance company prior to scheduling an aesthetic consultation.
When can I start exercising after my procedure?
Walking and some lower body exercises may be resumed after 2-3 weeks. No heavy lifting, pushing or pulling is allowed for 4-6 weeks.
How much does surgery cost?
Every situation is unique and the cost of surgery depends on several factors. The duration of the procedure varies on how extensive the surgery is. The duration will then determine the price of anesthesia and how long the surgical facility will be scheduled for. In order to provide the most accurate surgical fee estimate, it is necessary to meet with one of our board certified physicians for a consultation.