Tummy Tuck
Also known as abdominoplasty
Tummy-tuck surgery or abdominoplasty, can flatten your abdomen by removing loose, excess fat and skin and tightening muscles in the abdominal wall. It can also remove some if not all of the stretch marks in your lower abdomen. It is popular following pregnancy, massive weight loss or whenever a flabby abdomen with weak muscles impairs body contour. Most patients report improved self-esteem as a result of this procedure.
When to Consider a Tummy Tuck
• If you've got flab, stretch marks or excess skin in your abdomen that does not improve with diet or exercise.
• If the shape of your abdomen has been affected by pregnancy or massive weight loss.
• If you feel that your protruding abdomen is unattractive.
• If your self-confidence is marred by your stomach contour.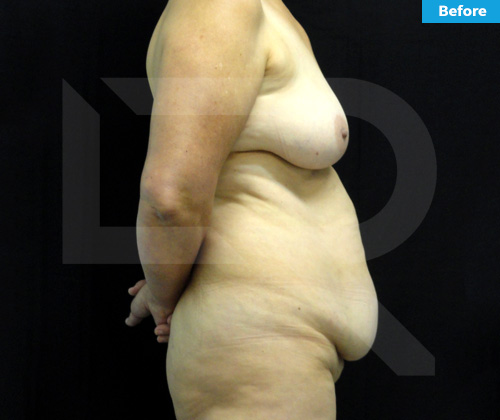 Frequently Asked Questions
How long does the procedure take?
Every situation is unique, but generally abdominoplasty is 2-3 hours or more, depending on individual circumstances and how extensive the procedure is.
Will it be performed under local or general anesthesia?
How long will I be out of work?
2 to 3 weeks. Full recovery from swelling and bruising may be 1 to 6 months or more. Patients may return to work in 2 weeks depending on job duties. If the job requires strenuous activity, it may be 4 to 6 weeks or more.
What should I expect after my procedure?
Patients will experience temporary bruising, swelling, and numbness.
Do I need special testing prior to my procedure?
Testing is dependent on the patient's health history and age. Testing is ordered for every patient.
Will this be covered by insurance?
When can I start exercising after my procedure?
No heavy lift, pushing, or pulling for 3-4 months. No cardiovascular for 3-6 weeks.
How much does surgery cost?
Every situation is unique and the cost of surgery depends on several factors. The duration of the procedure varies on how extensive the surgery is. The duration will then determine the price of anesthesia and how long the surgical facility will be scheduled for. In order to provide the most accurate surgical fee estimate, it is necessary to meet with Dr. Redondo physicians for a consultation.